INTRODUCTION:
Bus tranfer station Long Bien Public is an important project and the project's opening sequence Hanoi Eco Trans. This project was established under the contract signed at 14 9/2005 between the MPC. Hanoi and its partners are Ile de France, Hanover and the European Union, the license number of the Prime Minister to Gay 552/Tgg-QHQT April 10, 2006.
The goal of the project is to: Improve conditions for passengers using Public Transport Hanoi transfer from one bus to another bus; transfer from bus to train (Long Bien station) and vice versa (transit); create safe access and more convenient to the bus; problem solving congestion at intersections Long Bien; renovation of the entire urban conditions around Long Bien; building a civilized form of public transport in particular and civilized traffic Hanoi in 2020. With the permission of the MPC socialization. TUPWS Hanoi and Hanoi, Ky Nguyen has invested the entire cost to build transfer stations for public passenger transport in Long Bien.

On that basis, we provide market 1 new ad packages - transfer stations ADVERTISING IN PASSENGER TRANSPORT PUBLIC MINUTES LONG.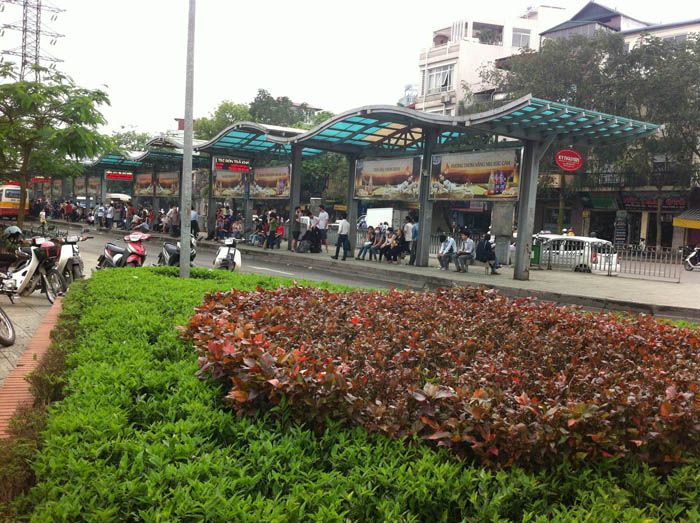 HIGHLIGHTS OF GIVING
Advertising Information at transfer stations will be received by: Nearly 200,000 passengers take the bus directly / day, 900 people / minutes (peak hours) participated traffic by other means, 300 people / minute ( hours usually) participated traffic by other means, 700 people / red light 30 seconds (both 2-D). Ads will be accepted by many different objects of the two residential areas are thickly populated areas along roadsides Yen and Hanoi center area. Advertising in the region of 3 major markets are North By Cho Cho Cho Dong Xuan, Long Bien and help create an environment for increased attention to the images, messages and advertising to promote the buying decision process. Advertising is in a continuous combination of 6 billboards bus waiting area was designed and built according to modern European styles. Large advertising area, height is not appropriate passenger obscured so recognizable. Image ads are well preserved by the lightbox marine structures, stainless steel frame, the mica surface and roof.
BUS PASSENGERS OF CONCENTRATION AND IN VERY LARGE transshipment point:
300 bus / h will park / turn / transit shelters in combination.
Nearly 200,000 passengers / day take the bus shelters in combination, account for 30% of total passenger Hanoi.
2 lines 85m long, 4m wide for 6 pick-up/drop-off location.
04 separate lanes for buses.
This line after center can receive fast BRT buses

TRUCK ROUTES IN FOCUS MINUTES LONG Hubs
19 bus route from Long Bien to Hanoi's main points
Route 10 terminating at Long Bien: 1, 4, 8, 10, 15, 17, 36, 47, 50, 54
Route 04 turning points in Long Bien: 3, 11, 34, 40
Route 05 passes through intermediate points: 18, 22, 23, 31, 55

COMMITMENT
Full brand image is shown in the best condition
Guaranteed absolute legal
Constantly upgrade the quality of services towards modernizing the system bus transfer stations Hanoi Long Bien project commitments Eco Trans 2020
Warranty service and good after-sales